---
---
---
Fit for Audit + Fit for Audit + Fit for Audit
Compliance Tool for EU / Germany
32 Checkpoints, 10 Pages
---
---
---
---

+++ In close succession: Another new accident prevention regulation. This time, the statutory maternity protection must be adapted to the current Corona conditions. +++
---
---

 +++ Show me your risk assessment for C-ASR +++
Avoid claims for damages from sick employees through a consistent, legally compliant implementation of the protective measures according to C-ASR of 08/20/2020
The previous "standards" of the Federal Ministry of Labor from April 2020 became a legally binding "rule" with an update from August 2020.
Now you have to provide proof that you have implemented the checkpoints of the C-ASR in concrete protective measures.
I will provide you with the required risk assessment form.
---
---
+++ How to come back to bureau +++
"How can I employ several people in one room again without irresponsibly increasing the risk of infection?"
These days, more and more decision-makers are tormenting themselves with this question. There are many reasons for this, from urgent team project work to customer presentations, company parties and other gatherings.
Think about whether these tips are helpful for your business:
If you fall below the minimum distance of 2 meters for more than 10 minutes, compensate by investing in a suitable fan with a HEPA filter. Example: Dyson TP04 for a room up to 40 square meters.
Clarify whether your air conditioning system is equipped with HEPA filters or can be retrofitted.
Make sure that any initial suspicion of corona disease is medically clarified immediately (call the health department).
Keep updated attendance lists.
Prepare your company for all contact persons to be quarantined immediately if a positive corona disease is found.
---
May 26, 2020
+++ Moving life (learning and working) outside +++
"Invest less in hand washing ..., invest more in thinking about how we can create a pragmatic environment in every conceivable situation in which aerosol transmission is less possible."
"Mass transfer events are driving the epidemic, and such super spreading events go more about aerosols."
New study (April 16, 2020, Japan) shows that the risk of infection in rooms is 19 times higher than outside.
The main transmission points (current study, London) are churches, workers 'dormitories, senior citizens' dormitories, hospitals, ships, schools, sports facilities, bars, shopping shops, conference zones. In addition, there is public transport, especially in situations with little ventilation (buses, trams, subways, ...).
CONCLUSION
Relocate all activities outside, for example in:
Daycare centers
schools
Meetings
ride to work by bike
Source: Listen to the NDR podcast, starting at 26 minutes
---
May 17, 2020
+++ Aerosol transmission requires supplementary protective measures +++
Mr. Drosten, chief of virology at Charitè (Berlin), describes a new finding in the NDR podcast of May 12, 2020. So far, only two transmission paths have been mentioned, that is contact infection and droplet infection.
As a result, we have all known about the need to disinfect contact surfaces, wash hands and keep a distance as well as sneezing at the arms since April at the latest.
Drosten's current assessment of the importance of the transmission path is:
45% droplets
45% aerosols
10% contact areas.
SOURCE: Listen to the NDR podcast, from 8:30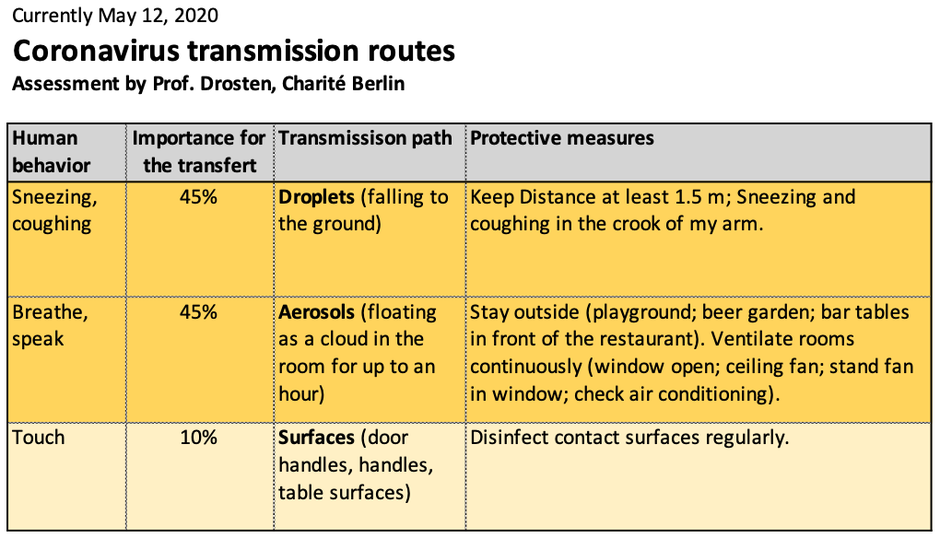 ---
01.05.2020
+++ New compulsory exercise: operational measure concept for infection protection against SARS-CoV-2 +++
The new SARS-CoV-2 occupational safety standard (BMAS April 16, 2020) and the Biological Substances Ordinance (July 22, 2013) oblige every employer to now fundamentally review their company organization and to plan and establish effective additional infection protection measures.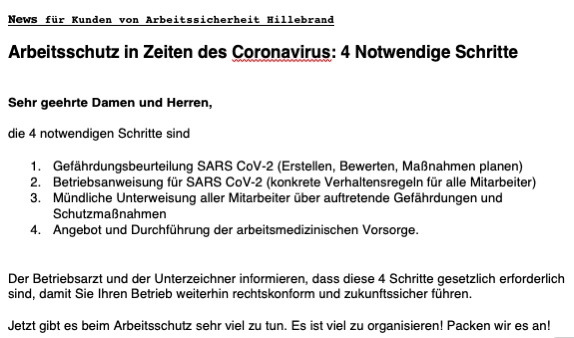 >> The necessary forms are ready in my drawer. You can start right away! Book my service and advice. Secure your operational and delivery capability. Avoid infections, quarantine and impending insolvency due to official closings. <<
---
04.03.2020
+++ Occupational safety supports construction planning +++
Requirements of the building owner, the requirements of fire protection, emission protection, building regulations, DIN.
An architect faces a front of constraints, and yet he wants to incorporate his creative handwriting.
And then he also has to take into account health and safety issues !!!
In the balancing act between these so numerous and - unfortunately - still divergent boundaries, the architect and the builder must still keep an eye on the spheres of legal and financial responsibility.
The earlier the expertise of occupational safety (keyword workplace / meeting place / accommodation law, etc.) is integrated in the planning process, the more expensive rescheduling or even corrections can be avoided during the construction phase.
Save time, money, nerves. Avoid late adjustments to the plan or even structural improvements. Prevent an imminent shutdown of the workplace and a fine procedure!
My services also include
Review of the planning documents
Check the reports
Accompaniment during the construction phase
---
12/10/2019
+++ GfB Psyche +++
This topic has now become part of everyday life.
The (orientative) determination of the psychological stress at work is easily done using this checklist: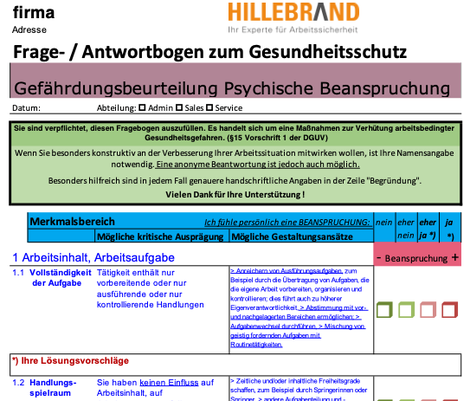 Either
Distribution to all employees in each department, after returning data collection and pronunciation in the ASA,
Or
Conducting a moderated conference with "delegates from a department", starting with immediately answering the checklist.
---
January 31, 2019
+++ GfB = focus on risk assessment +++
Every company must identify itself with documents regarding
GfB segmentation in office screen activity / psychological stress at work / maternity protection check18 / fire protection / workplaces / equipment / electrical engineering / ...
Phasing: Determination (checklists) / organization / evaluation / gathering ideas / measure decisions / effectiveness check.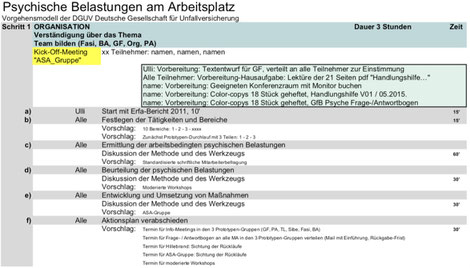 Example of organizing a kick-off meeting on GfB mental stress at work.
Really not difficult
really not time consuming.
+++ and how do you decide? +++
+++ Looking away does not count +++
+++ tackle it -> a get-together discussion is free +++
---
November 9th, 2016
+++ health and safety goals +++
Hurt! --- Aims? Aims!!!
The professional associations in Germany ensure that the costs of work-related illnesses and accidents are as low as possible.
The legal foundations can be found in the social code. In regular working meetings of the central associations, the rules are laid down which determine the burden sharing for the three insurance areas, professional associations, health insurance companies and pension insurance providers.
Since the merger of the commercial professional associations and the (municipal) accident insurance companies into the DGUV (German Statutory Accident Insurance) in 2007, the traditional UVVs have been checked, consolidated and deregulated. Employers were given more responsibility for the implementation of occupational safety. At the same time, the DGUV strengthened the formulation of objectives for practical work in occupational health and safety. For this purpose, a special internet platform was developed, the GDA portal (GDA = Common German Occupational Safety Strategy).
This resulted in a precise formulation of the occupational safety and health goals for the period 2007-2012 and currently for the period 2013-2018. The current strategic goals are:
Improve the organization of occupational health and safety

Reduction of work-related health risks and diseases in the musculoskeletal area

Protection and strengthening of health in the case of work-related mental stress
These goals should also be anchored in the daily implementation of your occupational safety.
Short test
What are your company ...
the results of the GDA-ORGcheck?

the response of your employees to offers from www.gdabewegt.de to reduce musculoskeletal disorders?

your employees' proposed solutions to reduce the (incorrect) stresses identified in the psyche check in the company?
Think about it!
---
18.10.2016
+++ Ein Sicherheitstag +++
Na klar - jeder Tag ist sicher! Also ist jeder Tag auch ein Sicherheitstag!
Oder doch nicht?
Denken Sie doch mal an das jährliche Mitarbeitermeeting. Der Chef hält eine kurze (Lobes-) Rede, die neuen Projekte werden vorgestellt, vielleicht auch die Zahlen des ablaufenden Jahres. Und dann?
Halt - gehen Sie dann nicht gleich nach Hause. Gehen Sie erst zu den kleinen Snacks, nehmen ein Glas Orangensaft (darf es auch ein Bananen-Spinat-Orangen-Limetten-Saft sein?).
Und dann führt sie der Chef nochmals zurück in den Raum. Er stellt den Betriebsarzt vor, deutet auf die Betrieblichen Ersthelfer (er dankt ihnen für das zusätzliche Engagement), er holt die Brandschutzhelfer nach vorne (meist die gleichen KollegInnen) und erinnert kurz an die "super gelungene - weil nur ganze 16 Minuten dauernde - Evakuierungsübung". Mit einem Kopfnicken leitet er über zu Herrn Hillebrand, den hier jeder kennt als "unseren Sicherheitsingenieur" und fordert nochmals volle Aufmerksamkeit für die kommende halbe Stunde. Er sagt, es geht um eine Agenda, die er genauso wichtig findet wie die Themen zuvor. Es geht nun (beispielsweise) um folgende Themen:
Wie sahen die Probleme nach der "Analyse der psychischen Belastungen" aus und welche Vorschläge gab es zur Linderung bzw. Behebung der Probleme? Welche Maßnahmen hat die Geschäftsleitung letztlich beschlossen?
Fast alle Mitarbeiter waren in den drei zurückliegenden Jahren bei der jährlich angebotenen betriebsärztlichen Augenuntersuchung. Und für wieviele Kollegen war der Hinweis auf eine mangelnde Anpassung ihrer Sehhilfe nützlich? In wievielen Fällen führte diese Anregung überhaupt erst zur Versorgung mit einer speziell auf den Bildschirmarbeitsplatz angepaßten "Business-Brille"?
Wie steht es heute um die früher zahlreichen Krankheitsfälle wegen Rückenschmerzen und "Tennisarm"? Die Investition in eine moderne Büromöblierung vor sieben Jahren hatte zur allseitigen Enttäuschung zunächst keine Besserung gebracht. Erst die kontinuierliche Detailarbeit der Arbeitssicherheit am Büroarbeitsplatz vor Ort und die interne Schulung des Sicherheitsbeauftragten in Sachen "Ergonomie" und "Einüben des ergonomisch sinnvollen Verhaltens" führten mittlerweile zu vollem Erfolg. Beim Krankheitsbild Rückenschmerzen und Tennisarm konnte allen Betroffenen zur Heilung verholfen und nachhaltig richtiges Verhalten eingeübt werden. Ja nach Situation wurden mit Erfolg auch spezielle Büroprodukte beschafft - zum Beispiel als Ersatz für die Zeigerführung mittels Maus.
Vielleicht stehen auf der Agenda eines anderen Betriebes ganz andere Themen auf der Tagesordnung.
Was bleibt?
Der Aufmerksamkeitswert eines Sicherheitstages ist enorm!
Der zeitliche Aufwand für diese Form der Arbeitssicherheitsunterweisung läßt sich genau einjustieren, von 1 Stunde bis mehr.
Denken Sie darüber nach!
---
23.09.2016
+++ Schon wieder Brandschutz +++
Haben Sie auch schon? Ja - ein Haus gebaut. Oder übernommen. Dann kennen Sie die Pflichten des Bauherren, des Gebäudebetreibers, aus eigener Anschauung. Als solcher sind Sie für die korrekte Ausgestaltung des Technischen Brandschutzes verantwortlich. Alternativ haben Sie diese Verantwortung vielleicht vertraglich einer Baufirma, einem Generalübernehmer oder dem Gebäudeverwaltungsdienstleister übertragen.
Zu dieser Verantwortung gehört alles, was bei der Errichtung des Gebäudes vom Gutachter, der das sog. Brandschutzkonzept geschrieben hat, festgelegt und mit der lokalen Brandschutzbehörde abgestimmt wurde. Die Fluchtwegelängen, die Fluchtwegekennzeichnung, die diversen Brandschutztechniken (Brandabschnitte, Rauch- und Brandschutztüren, Art der Löschwasserversorgung, Alarmmeldetechnik, Anzahl und Verteilung der Feuerlöscher usw.) sowie nicht zuletzt die Ausfertigung und Positionierung der Flucht- und Rettungspläne.
Um diese kurz F+R-Pläne genannten Aushänge geht es hier in dieser Geschichte.
Falls Sie mit Ihrem Betrieb jedoch "nur" Mieter in einer gewerblich genutzten Fläche sind, sieht diese Sache für Sie anders aus. Aber nicht immer einfach. Denn manchmal fehlen einfach einige dieser Dinge, wie zum Beispiel die Feuerlöscher oder die F+R-Pläne. Dann tauchen wohl Fragen auf wie diese:
Wer ist eigentlich in der Pflicht, der Vermieter / Bauherr oder der Mieter?

Sind denn in allen Gewerbegebäuden F+R-Pläne erforderlich?
Die Arbeitsstätten-Richtlinie ASR A2.3 (Stand 2014) sagt
2 Anwendungsbereich
Diese Arbeitsstättenregel gilt für das Einrichten und Betreiben von Fluchtwegen sowie Notausgängen in Gebäuden und vergleichbaren Einrichtungen, zu denen Beschäftigte im Rahmen ihrer Arbeit Zugang haben, sowie für das Erstellen von Flucht- und Rettungsplänen und das Üben entsprechend dieser Pläne. 
9 Flucht- und Rettungsplan
(1) Der Arbeitgeber hat für die Bereiche in Arbeitsstätten einen Flucht- und Rettungsplan aufzustellen, in denen dies die Lage, die Ausdehnung und die Art der Benutzung der Arbeitsstätte erfordern.
Dies kann beispielsweise in folgenden Fällen erforderlich sein:
- bei unübersichtlicher Flucht- und Rettungswegführung (z. B. über Zwischengeschosse, durch größere Räume, gewinkelte oder von den normalen Verkehrswegen abweichende Wegführung) 
- bei einem hohen Anteil an ortsunkundigen Personen (z. B. Arbeitsstätten mit Publikumsverkehr)
- in Bereichen mit einer erhöhten Gefährdung (z. B. Räume nach Punkt 5 (2) c) bis f)), wenn sich aus benachbarten Arbeitsstätten Gefährdungsmöglichkeiten ergeben (z. B. durch explosions- bzw. brandgefährdete Anlagen oder Stofffreisetzung).  
Meine Antworten lauten daher:
(1) Das Einrichten und Betreiben von Fluchtwegen - und damit auch die Aufstellpflicht von F+R-Plänen - gehört in den Verantwortungsbereich des Vermieters / Bauherrn / Gebäudebetreibers. Es ist nicht Pflicht des Mieters.
(2) Bei übersichtlicher Flucht- und Rettungswegführung, zum Beispiel bei ausschließlich kurzen Rettungswegen (bis 10 Meter) und direktem ungehinderten ebenerdigen Fluchtweg ins Freie kann auf F+R-Pläne verzichtet werden. Hinweis: Diese Bedingungen müssen aber für alle (!) Arbeits- bzw. Aufenthaltsplätze zutreffen. 
Tja, nicht ganz einfach, gerade deshalb gibt es diese Information hier.
***
ps
Für den Organisatorischen Brandschutz dagegen ist immer der Arbeitgeber (egal ob Mieter...) vor Ort verantwortlich. Also für die Ausbildung der Brandschutzhelfer, der jährlichen Unterweisung aller Mitarbeiter über das Verhalten bei Rauch und Feuer, über die Handhabung der Feuerlöscher und für regelmäßige Evakuierungsübungen.
---
15.09.2016
+++ Es brennt ! +++
Wir wissen nicht welche Erfahrung Sie mit Betriebsunfällen haben, aber gut geht anders. Es reicht schon ein Unwohlsein nach Kontakt mit Rauchgas, oder im Fall eines Quetschunfalls ein verbundener Finger. Oder ein ähnliches Vorkommnis.
Die Geschichte geht so: Der Mitarbeiter geht auf jeden Fall zum Arzt; der Arzt behandelt seinen Patienten und muss die Berufsgenossenschaft informieren; die Berufsgenossenschaft steht dann vor Ihrer Türe. Unangemeldet !!!
Und durchforstet Ihren ganzen Betrieb. 
Sie bekommen einen langen Brief mit jede Menge Auflagen und Terminen.
Sie haben damit vielleicht unerwartete Arbeit, die sich Monate hinzieht.
Also:
Vorsorgen ist besser. Besser ist konsequente Arbeitssicherheit.
In diesem Fall hätten wir das kaputte Heizgerät aus dem Verkehr gezogen.
In jedem Fall hätten wir in der Mitarbeiterunterweisung das richtige Verhalten bei Rauch und Feuer trainiert.
---
14.09.2016
+++ Wer will noch mehr Stress? +++
Wir wissen nicht wie es Ihnen mit Behörden geht, aber gute Stimmung kommt meist von woanders her. Ein Behördenbrief oder eine Spontankontrolle löst möglicherweise einige hektische Arbeit aus.
Entweder man hatte schon immer ein schlechtes Gewissen oder jetzt bekommt man eines. Wer ärgert sich nicht (über sich selbst), wenn anschließend gefragt wird "Hast du das nicht kommen sehen?" oder "Dachtest wohl es geht gut wie in all den letzten Jahre?" und "Bist wohl ein Zocker!"
Also:
Wer viel Adrenalin liebt (und verspottet werden verträgt), der liest hier nicht weiter.
Alle anderen mal herhören:
Wir sorgen dafür, daß Sie vorbereitet sind. Schließlich haben Behörden immer Recht.
Und das Beste: Wir teilen uns die Mühe. 
---
---